Welcome Students!
In this section, find specialized resources for students in Middle School, High School, and College Level sections.
In our Middle School section, you can:
Get advice on coursework which will help prepare you to pursue careers in Physics fields.
Find suggested readings to find out more about the lives of famous Physicists.
Discover resources to help you to explore Physics, at home and in the classroom.
In our High School section, you can:
Get advice on coursework and activities which will help prepare you to pursue careers in Physics fields.
Learn about fun ways to explore science while connecting with other students.
Find information about Federal Student Aid and Physics programs, scholarships, and clubs.
In our College section, you can:
Get advice on how to tailor your undergraduate Physics program to prepare you for specific fields.
Find information about how to build skills and make connections through student organizations and job shadowing.
Discover resources for helping you decide on a graduate school, or finding and landing that perfect job if you are interested in entering the workforce upon graduation.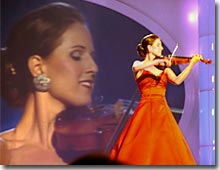 Allison Porter - Biophysics Technician
Porter had always been interested in the sciences, and had showed special interest in becoming a doctor, partially due to her aunt's fight with ovarian cancer. In high school, she had a physics class that she particularly enjoyed. In the class, she was introduced to astrophysics that allowed students to create a simulated solar system by determining objects masses and velocities.

When going through her undergraduate years, she wanted to choose a major that gave some breadth to her education, and her good experience in her high school physics class helped steer her towards astrophysics. "I think a lot of it is from just a philosophical standpoint, studying things that are much larger than we can really comprehend, I was very interested in big bang cosmology, the origins of the universe."

After graduating from Harvard, Porter entered the Miss America pageant, representing her state of Washington. She chose the pageant due to its goal to develop well-rounded women, and currently employs her role as Miss Washington to raise awareness of cancer prevention, treatment, and funding.

She is currently in the MD Program at the University of Washington.