Welcome Students!
In this section, find specialized resources for students in Middle School, High School, and College Level sections.
In our Middle School section, you can:
Get advice on coursework which will help prepare you to pursue careers in Physics fields.
Find suggested readings to find out more about the lives of famous Physicists.
Discover resources to help you to explore Physics, at home and in the classroom.
In our High School section, you can:
Get advice on coursework and activities which will help prepare you to pursue careers in Physics fields.
Learn about fun ways to explore science while connecting with other students.
Find information about Federal Student Aid and Physics programs, scholarships, and clubs.
In our College section, you can:
Get advice on how to tailor your undergraduate Physics program to prepare you for specific fields.
Find information about how to build skills and make connections through student organizations and job shadowing.
Discover resources for helping you decide on a graduate school, or finding and landing that perfect job if you are interested in entering the workforce upon graduation.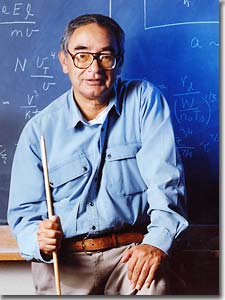 Fred Begay - Research Physicist
Fred Begay was born on the Ute Mountain Indian Reservation in Colorado. His parents were Navajo and Ute healers and spiritual leaders, and taught him their ceremonies and religious beliefs. When he was ten, he was sent to a government-run boarding school where they forced him to learn farming; "our parents didn't speak English, so they couldn't say, 'I want him to take physics.'" says Fred. At the school, speaking in Navajo or Ute was discouraged, and any recitation of traditional prayers was threatened with punishment.

After eight years learning about farming, Fred joined the Air Force and fought in the Korean War. After returning from the service, he took advantage of Veterans benefits and started classes at the University of New Mexico. Unfortunately his schooling had not prepared him for the course work, so he had to take high school classes at night.

According to Fred, there was a lot of overlap between what his parents had taught him, and what he learned in physics. "It turns out many of the prayers and songs have built in lots of science, " he says."I was immersed in all that knowledge before I even got to the first grade. "

Fred earned his undergraduate, graduate, and doctoral degrees from the University of New Mexico, and went to work for the Los Alamos Nuclear Research Labs.